Installing Elementor Pro
Congratulations on signing up for Elementor Pro. This guide walks you through the entire process of installing and activating Elementor Pro on your WordPress site.
This document will guide you through 3 simple steps to install Elementor:
Installing and activating Elementor (free)
Downloading the Elementor Pro plugin
Uploading it to WordPress
Activating the license
Installing and Activating Elementor (free)
Elementor Pro is an extension of Elementor, so you must have Elementor installed.
From the WordPress Dashboard, click Plugins >AddNew.
In the Search field, enter Elementor and choose Elementor website builder to install.
After installation, click Activate.
Download the Elementor Pro Plugin File
After purchasing Elementor Pro, go to my.elementor.com.
Login with the details you received in the email after the purchase.
After the login, you will reach your Profile page. Click on the Download Plugin button in the upper corner section and download the .zip file to your desktop.
Upload the Elementor Plugin File to WordPress
Note: If you receive an error message saying that you are missing the style.css stylesheet, that means that you have tried to install this as a theme instead of a plugin. Elementor Pro is a plugin, not a theme. Install it as a new plugin only.
Activate Your License
After installing Elementor Pro, you need to activate your license. To activate your license and get automatic updates:
From the WordPress Dashboard, go to Elementor >License.
Click Connect & Activate
You'll be redirected to log in to your account.
3. Click Connect.
After you log in, your license will be activated automatically.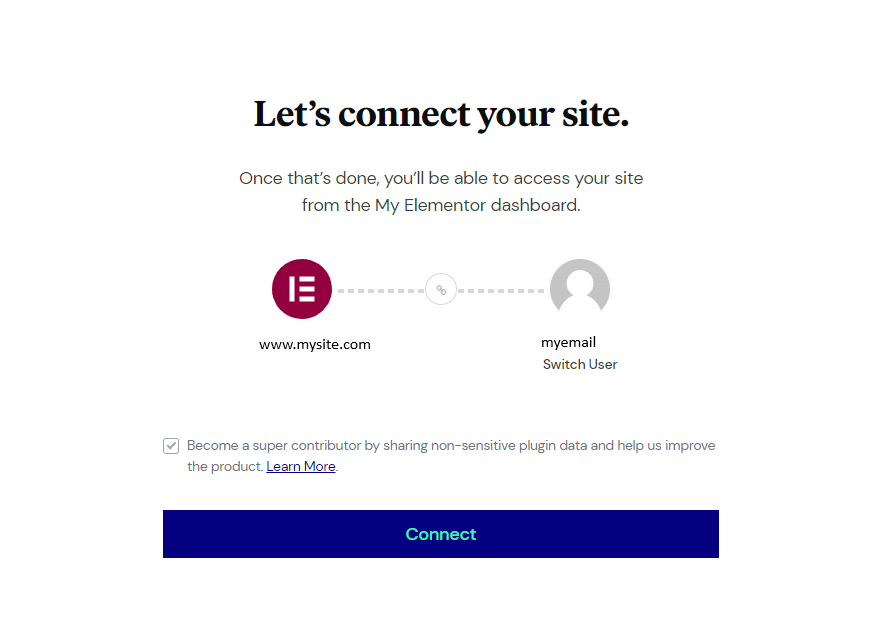 If the license key was installed correctly, the message on the top of your dashboard should disappear.
Note: If you get an "Invalid redirect URI. Try to reconnect" error, or any similar "Error Occurred" message, when attempting to activate Pro, please go to Settings > General and check the URLs that are listed there as your WordPress Address (URL) and Site Address (URL). Both URLs should be exactly the same. If they are different, you can get this error.
For any other issues contact our customer experience team by using the form on the support page.
As of version 2.9, Elementor Pro widgets are not draggable unless your Elementor license has been activated. Please see this document for more information.
Note: If you encounter any issues with the ZIP File, check this article
Expand Your WordPress Abilities
All-in-One Platform
Integrating the benefits of hundreds of plugins in one place. Elementor is the only platform you'll need to build professional WordPress websites.
Constantly Up To Date
Our expert developers deliver continuous updates in short cycles making sure that your account constantly performs at the highest standard.
Forever Open-Source
Elementor was built with the open source values of WordPress at its core. Our platform is available to be built upon and improved by you.
The Swiss Army Knife of WordPress Plugins
With widgets for every need, endless customization options, and WordPress's fastest themes, Elementor has you covered.
No More Plugin Clutter
Build great websites without using multiple plugins. Take care of every website creation need with Elementor.
Widgets for Every Purpose
Create your ideal website using 90+ widgets and countless built-in capabilities.
Built for Speed
One plugin means less workload on servers. Optimize your loading speed with Elementor.
Highly Secure & Regularly Updated
Your website performance is important to us, which is why we are fully compliant with WordPress's security standards. Additionally, we sanitize and remove malicious content when needed. With continuous updates and a commitment to security, your account is in safe hands.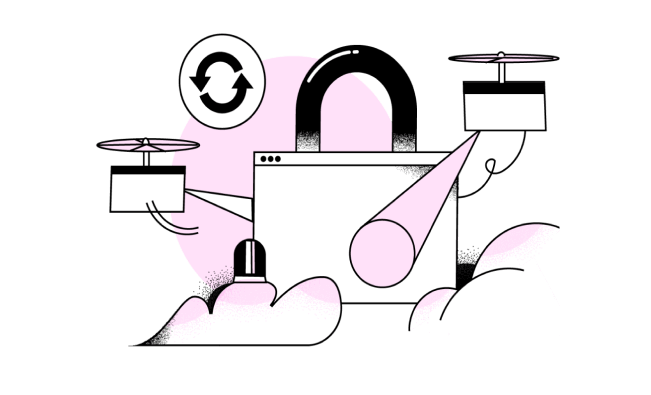 We Speak 50+ Languages
Elementor is available in multiple languages with RTL integration and multilingual support. You can use the platform in your preferred language or add your own translation.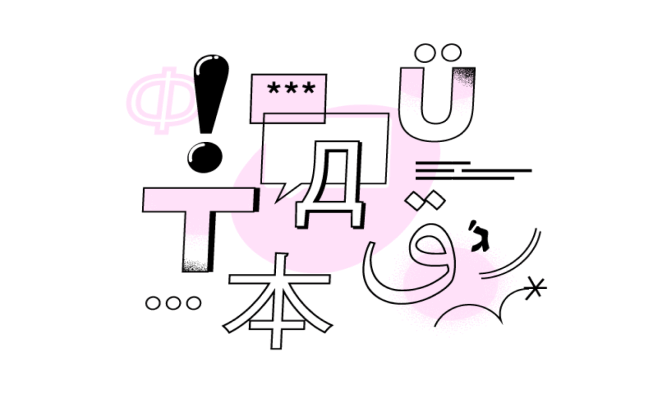 Seamlessly Integrate Your WordPress Plugins
Elementor is fully compatible with other popular WordPress plugins such as Wordfence, Smush, Yoast, WooCommerce, ACF and more.
Speed Ahead With Hello Theme
Start building your website using our speedy theme, Hello. Lightweight and with minimal styling and scripts, the Hello theme is built for robust speed and performance.
Elementor PRO 3.7.7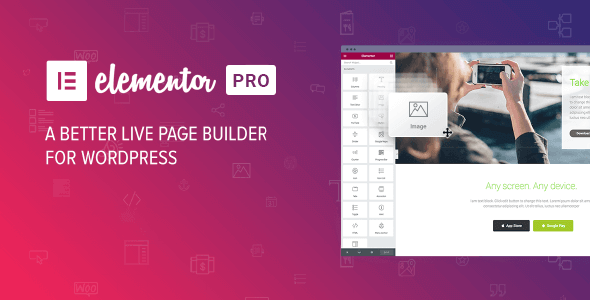 Наименование
Размер
Дата изменения
Загрузка
elementor-pro-v3.7.6n..3.7.5fn.zip
10 МБ
2022-09-14T18:13:19+00:00
Загрузить
Рекомендованный хостинг:

Дополнения (150)
elementor-pro-v3.7.6n..3.7.6fn.zip
10 МБ
2022-09-16T05:49:24+00:00
Загрузить
Рекомендованный хостинг:

Дополнения (150)
elementor-pro-v3.7.7.zip
3 МБ
2022-09-23T08:30:52+00:00
Загрузить
Рекомендованный хостинг:

Дополнения (150)
Elementor — это один из самых популярных плагинов для создания контента с помощью удобного конструктора. С его помощью, вы можете создавать настоящие страницы-шедевры без какого-либо знания программирования или верстки. Огромное количество готовых компонентов, эффектов, встроенные шаблоны уже готовых страниц (вставляй и меняй на свои буквы и картинки) и многое другое. Также, для Elementor существует большое количество всевозможных расширений от разных разработчиков, поэтому Вы без труда сможете отображать с его помощью содержимое от всем известных плагинов, таких как Woocommerce, Contact Form 7, BuddyPress и т.д.
Основные возможности плагина Elementor:
50 встроенных высококлассных виджетов
Гибкая настройка отображения сетки элементов
Визуальный конструктор форм со встроенными интеграциями
Вывод постов в произвольного количества, вида и типа
Расширенная фильтрация постов
Красивый вывод портфолио и произвольные стили для карт
18 динамических виджетов WooCommerce
Всплывающие окна в несколько кликов
Более 100 виджетов Elementor для использования в всплывающих окнах
Анимация любых элементов
Прайс-лист
Вкладки, аккордеоны, карусели
Google шрифты
и многое другое
Elementor Website Builder
Description
THE #1 WEB CREATION PLATFORM, POWERING OVER 10M WEBSITES WORLDWIDE.
Elementor is the leading website building platform for WordPress, enabling web creators to build professional, pixel-perfect websites with an intuitive visual builder. Quickly create amazing websites for your clients or your business with complete control over every piece, without writing a single line of code. Join a vast community of web creators from all around the world who deliver exceptional websites using Elementor.
ONE PLATFORM, UNLIMITED WEB CREATIONS
Whether you're looking to achieve pixel-perfect designs, scale and accelerate your website creation process, or increase lead generation, Elementor has what you need to create any type of website.
With an instant, live design and inline editing drag-and-drop Editor, you can create your website while seeing exactly how it would look. Elementor's open-source solution comes with dozens of out-of-the-box widgets and features for you to use. Additionally, you can integrate with other marketing services or extend Elementor's capabilities even more with the Developers Docs.
To edit elements from your Theme, including its Header, Footer, Single Post, and Archive Page, check out our Pro features.
PIXEL-PERFECT DESIGNS
With Elementor's robust design features, you can create unique, show-stopping websites. Adjust every element's spacing, positioning, padding, and margins exactly as you want it, down to the very last pixel. Elevate your website's design with over 40 widgets and features like Box Shadow, Background Overlays, Hover Effects, Headline Effects, Animations, Gradient Backgrounds, CSS Transform, Mask Options, Shape Dividers, Coming Soon Mode, and many more.
To view a complete list of Elementor's features, visit the feature page.
FULL WEBSITE KITS AND TEMPLATE LIBRARY
Save valuable time, jumpstart your website creation process, or find inspiration with our designer-made website kits and templates. Apply a Full Website Kit to get a website in a snap, including the Homepage, Service Page, and more. Use the library to import Single Pages, Blocks, or Popup templates to your website. You can also create and export your own templates and import them to another website to create reusable website blueprints and accelerate your website creation process.
FULLY RESPONSIVE
Seamlessly adjust the content and presentation of your website to every device. With Custom Breakpoints, you can deliver the most optimized experience for each visitor, whether they're viewing your website on Desktop, Mobile, Tablet, Wide Screen, and more.
ACCELERATED CREATION WORKFLOW
Streamline your workflow and introduce efficient methodologies to accelerate your website creation process. Leverage global fonts and colors for consistency throughout your website. Drag media files directly from your desktop into the editor, mark widgets as favorites, create a blueprint of your website so you can reuse it, and more.
Take your professional workflow to the next level with Dynamic Content.
FAST LOADING WEBSITES
Enjoy fast-loading websites that rank well on Google search. Enhance your website performance using built-in features, and benefit from Elementor's ongoing performance improvements, such as reduced CSS and JS files, lazy loading, and more. To learn more, check out our performance page.
PROMOTING ACCESSIBILITY
Elementor is built with Accessibility in mind and offers tools and enhancements to help you provide a better experience for all users. These include HTML 5 semantic, full keyboard navigation menu, ongoing accessibility improvement of features, widget, and more
SUPPORTED BY A STRONG COMMUNITY
Join a thriving global community that helps each other achieve their goals. Get answers to your questions, solve problems with other members, share knowledge, and so much more. Join the community discussions, meetups, enjoy hundreds of YouTube videos, articles, and tutorials made by members worldwide.
Facebook Community – with over 120K members, who are constantly offering support, advice, feedback, and tutorials about new features and how to achieve complex website scenarios.
Dozens of Elementor Addons – a multitude of addons that extends Elementor's solution with over 900 addons, so you can achieve nearly every capability you can think of, no matter how niche it is.
Experts Community – the Elementor experts market is the place for you to find and hire an Expert, or become an Expert and offer your services to clients.
Community Hub – connect with other community members, get informed about new releases and updates in the developer's edition.
Github Community – get information about all the latest releases, request features, or report a bug.
OVER 40+ FREE WIDGETS AND COUNTING
Elementor includes a variety of 40+ free widgets for you to build professional and engaging websites:
Heading. Add eye-catching headlines.
Image. Control the size, opacity and other settings of images.
Text Editor. A WYSIWYG text editor, just like the WordPress editor.
Video. Add YouTube, Vimeo, Dailymotion or self-hosted videos to your page.
Button. Controlling every aspect of the button design.
Image Box. A box that includes image, headline and text.
Testimonials. Customer testimonials that show social proof.
Icon. Place one or more of 600+ icons available.
Icon Box. Include an icon, headline, and text with one widget.
Social Icons. Link to your social pages with the relevant icon like Facebook/Twitter.
Image Gallery. Displays your images in an aligned grid.
Image Carousel. Create a rotating carousel or slider for chosen images.
Icon List. Use any icon to create a bullet list.
Counter. Show stats and numbers in an escalating manner.
Progress Bar. Include an escalating progress bar.
Tabs. Display different pieces of content in vertical or horizontal tabs.
Accordion. Display content in multiple collapsable sections.
Toggle. Use the Toggle to hide or display content, like FAQ.
Star Rating. Allow your visitors to rate you on your website.
Alert. Include a colored alert box to draw visitor's attention.
HTML. Insert code into the page.
Shortcode. Easily insert shortcodes from any plugin into the page.
Menu Anchor. Link any menu to this anchor.
Read More. Set the Read More cut-off for the excerpt in archive pages.
Sidebar. Add any sidebar into the page.
Google Maps. Embed maps into the page.
SoundCloud. Add audio bits from SoundCloud.
Divider. Separate content with a designed divider.
Spacer. Add space between elements.
Columns. Create inner columns within the column.
Text Path. Attach your text to a path..
And counting…
Developer API
As an open-source platform, developers can extend Elementor's capabilities and explore various resources to get started. This includes a developer's website, Developers Docs, Developers Blog, GitHub, Add-on Developers Newsletter, the Community Hub's development room, and more.
TRANSLATED TO 59+ LANGUAGES, INCLUDES RTL SUPPORT
Elementor supports multiple languages and typographies and is RTL compatible, so you get an Editor and Panel that supports over 59 languages out of the box. Elementor is also compatible with WPML, Polylang, TranslatePress, Weglot, and more.
If you would like to contribute, you can add a new language via translate.wordpress.org. We've built a short guide explaining how to translate and localize the plugin.
TAKE IT TO THE NEXT LEVEL WITH ELEMENTOR PRO
Create immersive web experiences while saving time and resources, keeping costs manageable with Elementor Pro. Get access to +90 professional widgets, features, and tools to create comprehensive website experiences.
Elementor Pro's features include:
– Exclusive Pro Kits and Templates
– Advanced Motion Effects
– Industry-leading Theme Builder
– WooCommerce Builder
– Professional Form Builder and Submission Log
– Popup Builder
– Dynamic Content
– Marketing automation and CRM integrations
– Scroll Snap
– Custom fonts & icons
– Role manager
– Blog post layout widget
– Image & video sliders
– Global widgets
– Custom CSS
– Custom Code
– 90+ Professional widgets
– And many more.
Join the elite web creators who enjoy Elementor Pro!
SECURITY AND COMPLIANCE
Elementor is ISO 27001 certified and has a dedicated team of security professionals that implements industry best practices for maximum security and compliance 24/7.
There is also a managed security Bug Bounty program, utilizing the community power by enabling 24/7/365 crowdsourced vulnerability detection.
ELEMENTOR RESOURCES AND SUPPORT
To learn how to get started with Elementor, or view tutorials about new features, go to the Elementor Academy or the Help Center.
If you have any more questions or need support, visit the support on the Plugin's forum. Elementor Pro users can also reach out to a dedicated support channel for premium 24/7 support.
For more information about Elementor and Elementor Pro features, visit Elementor Website Builder.
Liked Elementor?
Join our Facebook Group.
Learn from our tutorials on YouTube Channel.
Or rate us on WordPress 🙂
Screenshots
Visual Drag and Drop Editor Our instant drag and drop lets you easily place every element anywhere on the page and create pixel perfect designs.
Full Design System Speed up your workflow and ensure consistency across your site with settings you define once, use globally, and change anytime — no coding required.
Motion Effects Add transitions and animations to your website elements/designs to create a unique user experience.
Kit Library Choose from a variety of designer-made website kits created to fit any industry. Add content, customize it, and make it your own.
Templates Library Save your pages or sections as templates, so you can easily reuse them again or choose one of our beautiful pre-designed templates.
Responsive Design Fully edit your websites and customize the behavior on desktop, tablet & mobile to maximize the experience by switching between devices and breaking points.
Installation
Minimum Requirements
WordPress 5.0 or greater
PHP version 7.0 or greater
MySQL version 5.0 or greater
We recommend your host supports:
PHP version 7.0 or greater
MySQL version 5.6 or greater
WordPress Memory limit of 64 MB or greater (128 MB or higher is preferred)
Installation
Install using the WordPress built-in Plugin installer, or Extract the zip file and drop the contents in the wp-content/plugins/ directory of your WordPress installation.
Activate the plugin through the 'Plugins' menu in WordPress.
Go to Pages > Add New
Press the 'Edit with Elementor' button.
Now you can drag and drop widgets from the left panel onto the content area, as well as add new sections and columns that make up the page structure.
For documentation and tutorials visit our Knowledge Base.
How do I install Elementor?
To install the free version of Elementor, follow the steps below:
From your WordPress dashboard -> Go to Plugins -> Click on 'Add new'-> In the Search field, enter Elementor and choose Elementor website builder.
Press install -> After installation, click Activate.
Does Elementor work with all the themes?
Elementor works all the themes that respect the coding standards of WordPress set by its Codex. It is recommended to use Elementor's Hello Theme, a lightweight blank canvas, to enjoy full flexibility when using Elementor, and optimize your experience.
Is Elementor compatible with Gutenberg?
Elementor and Gutenberg work seamlessly together. As a user, you can easily decide which editor to use at every point while editing your site.
Can I create an online store?
Yes, with the Elementor Pro WooCommerce Builder you can customize every page of your store to create an amazing customer experience that drives sales.
Does it work with other WordPress plugins?
It works with almost all the plugins. If you experience an incompatibility issue, please report it to us and to the plugin that conflicts with Elementor.
Do I need to know how to code?
No! Elementor provides you with all the widgets and features that you need to build a proffesional website without using code.
Do i need to know how to design?
No, you can choose between professionaly designed kits and templates that fit toevery industry and have all you need to create your own profesional website.
Will elementor slow down my website?
As Elementor prioritizes speed and performance, you enjoy better and faster performance with each new version of Elementor. When testing the same page layout on older versions you can see a significant performance improvement, from a score of 82 in Google PageSpeed Insight in version 3.1, to a score of 95 i in version 3.5.
Is my site secure with Elementor?
The security of your website is extremely important to us and we take proactive measures to assure that your websites are secure. Elementor is ISO 27001 certified, and has a dedicated team of security professionals that implements industry best-practices for maximum security and compliance, 24/7.
There is also a managed security Bug Bounty program, utilizing the community power by enabling 24/7/365 crowdsourced vulnerability detection.
Can I buy templates separately?
Of course, you can use any template that supports Elementor.
Is Elementor compatible with Post and Custom Post Types?
Of course! You can set which post types will enable Elementor in the settings page.
What is the difference between Elementor's free Plugin and Elementor Pro
Elementor's Free version allows you to explore our revolutionary drag & drop live editor, basic widgets and templates. Elementor Pro (Essential, Advanced, Expert, Studio, and Agency) empowers you with more professional tools that speed up your workflow, give you access to human-powered support, help you build more advanced content, and convert visitors. See full comparison here.