How to Resize an Image
In this article
Like words, photos tell stories. In fact, people are more likely to remember and share information if it's paired with an image, according to HubSpot. Too often, website managers treat images like afterthoughts.
We've all experienced it — how many times have you visited a site and seen stretched, blurry, and distorted photos that gave you double vision? Don't make this mistake when launching your site. Here's how to resize an image the right way.
Why photo sizes are important
Everything that you add to a site affects its performance, especially when it comes to photos. Images that are too large will take up more bandwidth, causing slower load times. This both frustrates visitors and affects your search-engine ranking in Google.
Alternatively, images that are too small will damage the user experience. Your site visitors shouldn't have to squint when they view your product photos. Poor image quality also sends a bad message to potential customers — if you don't take the time to present them with professional images, why should they reward you with their business?
How to scale an image
Fortunately, there are a few ways to edit or resize an image using your WordPress.com site. The first option is to scale your image. Scaling involves resizing an image in a way that keeps its original proportions intact, and doesn't make it look like someone stretched it from head to toe.
Here's how to properly scale an image:
Go to your site's settings by clicking on My Site or My Sites (if you have more than one) in the top-left corner of your screen. You'll see this option no matter where you are on WordPress.com
Click on Media to access your Media Library. From here, you can either upload a new image or select one that you previously uploaded.
Once you click on the image, you'll be taken to the Image Editor. You'll see information about the image, including file type, file name, file size, and the dimensions.
Click the Edit Image button at the bottom of the photo. You will be directed to the Image Preview page.
You'll see a few options on the right side of the page to either scale the image or crop it.
You'll see the photo's original dimensions and a field where you can type in its new dimensions. This doesn't require any calculations — simply type in the new height or width, and the remaining dimensions will automatically adjust, keeping the photo proportional.
Scaling is best if you want to make a large photo smaller. Doing the opposite will cause an image to look pixelated, leading to poor image quality.
How to crop an image
You also can crop an image if you only want to feature a specific section of it. It's better to scale an image before you crop it in order to maintain the original integrity of the photo.
You can crop a photo from the Image Editor, or you can do it directly from the Visual Editor of a post or page.
From the Image Editor…
Using the Crop tool, click and drag to select a section of the image that you want to feature.
To maintain the cropped image's shape, enter the aspect ratio into the empty field under Image Crop. The aspect ratio is the relationship between the photo's width and height. This ratio gives the photo its shape. Two of the most common aspect ratios are 1:1 and 4:3.
Once you're done, hit Save.
From a post or page…
Click My site.
You'll see a list of options on the left side of the page, including Blog Posts and Media.
Click Media, and upload a new image or select from previously uploaded ones.
Select an image and click Edit.
You'll see a preview of the image. Click Edit Image in the upper right-hand corner of the photo.
Click the Crop icon. A dropdown menu will appear with a list of aspect ratio options, including "Free," "Original," "Square," "16:9," "4:3," and "3:2."
Select one and use your mouse to choose the portion of the image you want to keep.
Click Done to save the cropped image.
How to Bulk Resize Large Images in WordPress
Last updated on February 27th, 2015 by Editorial Staff | Reader Disclosure Disclosure: Our content is reader-supported. This means if you click on some of our links, then we may earn a commission. See how WPBeginner is funded, why it matters, and how you can support us.
Uploading large images to your site can significantly slow down your site. This is why we recommend users to always save images optimized for the web. However if you run a multi-author site, then it can be difficult to monitor images uploaded by other users. What if we told you that you can automatically resize large images on your WordPress site, even long after they are uploaded? In this article, we will show you how to bulk resize large images in WordPress.
Important: Please backup your WordPress site before bulk resizing images. Once resized, this action cannot be undone.
Video Tutorial
If you don't like the video or need more instructions, then continue reading.
First thing you need to do is install and activate the Imsanity plugin. Upon activation simply go to Settings » Imsanity to configure the plugin.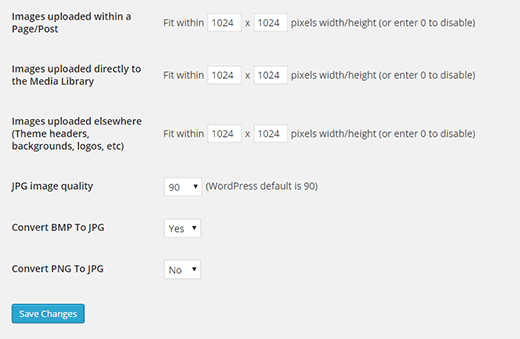 The plugin allows you to choose the maximum image size for all images uploaded to a post/page, images uploaded directly to media library, and images uploaded for theme options.
The default value is 1024 x 1024 pixels which you can change at any time.
Below the image sizes, you have the options to choose image quality, convert BMP to JPG, and PNG to JPG.
The default WordPress image quality for jpegs is 90, and setting it lower will result in loss of quality. Converting your BMP files to jpegs is always a good idea. However, converting PNG files to JPG does not always result well.
Once you are done, press the save changes button to store your settings.
On the same page, you will find a Search Images button at the bottom. Click on it to locate files that are larger than maximum sizes you defined in your settings.
The plugin will locate and display large images.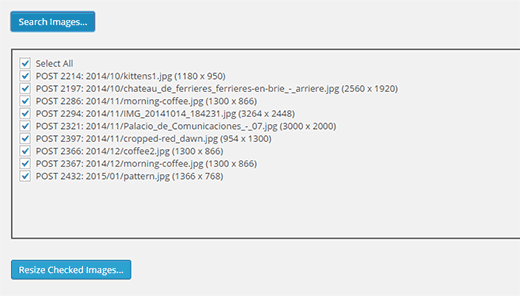 Review the results and uncheck any images that you don't want to resize.
Once you are done, press the Resize Image Sizes button, and the plugin will start resizing images into the maximum values you entered in settings. It will also automatically replace large images with the normal sized ones.
That's all, we hope this article helped you bulk resize large images in WordPress.
You may also want to take a look at Why you need a CDN for your WordPress blog.
If you liked this article, then please subscribe to our YouTube Channel for WordPress video tutorials. You can also find us on Twitter and Google+.
Resize Image After Upload
Description
A free, fast, easy to use, stable and frequently updated plugin to resize your images after upload. Supported by the friendly team that created ShortPixel 🙂
This plugin automatically resizes images (JPEG, GIF, and PNG) when they are uploaded to within a given maximum width and/or height to reduce server space usage, speed up your website, save you time and boost your site's SEO.
Imagine that nowadays images can be over 4-5MB and using this plugin you can reduce them to 100-200KB with no extra effort on your side!
In addition, the plugin can force the re-compression of uploaded JPEG images and convert PNGs to JPEG (if they don't have a transparency layer), regardless of whether they are resized or not.
Is that simple, just give it a try, it is safe and free! 🙂
Other plugins by ShortPixel:
ShortPixel Image Optimizer – Image optimization & compression for all the images on your website, including WebP & AVIF delivery
ShortPixel Adaptive Images – On-the-fly image optimization & CDN delivery
Enable Media Replace – Easily replace images or files in Media Library
reGenerate Thumbnails Advanced – Easily regenerate thumbnails
WP SVG Images – Secure upload of SVG files to Media Library
Get in touch!
Screenshots
Full preview of the settings screen.
Installation
Upload the plugin 'resize-image-after-upload' to the '/wp-content/plugins/' directory.
Activate the plugin through the 'Plugins' menu in WordPress.
Edit the max-width/max-height settings under 'Settings > Resize Image Upload'.
Once active, just upload images as normal and it will just work!
Is this plugin compressing the images?
Yes, this plugin compresses the original images, you can select the JPEG quality for example. For a professional image optimization solution though we recommend you this image optimization plugin.
Is this plugin resizing also older images?
This plugin will not resize images that have already been uploaded. For this you can use ShortPixel, it can not only resize your images but it can compress them as well!
Is the original image and/or its EXIF data kept?
The resizing/recompression process will discard the original uploaded file including EXIF data.
Imsanity
Description
Automatically resize huge image uploads with Imsanity. Choose whatever size and quality you like, and let Imsanity do the rest. When a contributor uploads an image that is larger than the configured size, Imsanity will automatically scale it down to the configured size and replace the original image.
Imsanity also provides a bulk-resize feature to resize previously uploaded images and free up disk space. You may resize individual images from the Media Library's List View.
This plugin is ideal for blogs that do not require hi-resolution original images to be stored and/or the contributors don't want (or understand how) to scale images before uploading.
Features
Automatically scales large image uploads to a more "sane" size
Bulk resize feature to resize existing images
Selectively resize images directly in the Media Library (List View)
Allows configuration of max width/height and JPG quality
Optionally converts BMP and PNG files to JPG for more savings
Once enabled, Imsanity requires no actions on the part of the user
Uses WordPress built-in image scaling functions
Translations
Imsanity is available in several languages, each of which will be downloaded automatically when you install the plugin. To help translate it into your language, visit https://translate.wordpress.org/projects/wp-plugins/imsanity
Contribute
Imsanity is developed at https://github.com/nosilver4u/imsanity (pull requests are welcome)
Credits
Originally written by Jason Hinkle (RIP). Maintained and developed by Shane Bishop with special thanks to my Lord and Savior.
Screenshots
Imsanity settings page to configure max height/width
Imsanity bulk image resize feature
Installation
Go to Admin -> Plugins -> Add New and search for "imsanity"
Click the Install Button
Click 'Activate'
Download imsanity.zip
Unzip and upload the 'imsanity' folder to your '/wp-content/plugins/' directory
Activate the plugin through the 'Plugins' menu in WordPress
Will installing the Imsanity plugin alter existing images in my blog?
Activating Imsanity will not alter any existing images. Imsanity resizes images as they are uploaded so it does not affect existing images unless you specifically use the "Bulk Image Resize" feature on the Imsanity settings page. The Bulk Resize feature allows you to quickly resize existing images.
Why am I getting an error saying that my "File is not an image" ?
WordPress uses the GD library to handle the image manipulation. GD can be installed and configured to support various types of images. If GD is not configured to handle a particular image type then you will get this message when you try to upload it. For more info see http://php.net/manual/en/image.installation.php
How can I tell Imsanity to ignore a certain image so I can upload it without being resized?
You can re-name your file and add "-noresize" to the filename. For example if your file is named "photo.jpg" you can rename it "photo-noresize.jpg" and Imsanity will ignore it, allowing you to upload the full-sized image.
If you are a developer (or have one handy), you can also use the 'imsanity_skip_image' filter to bypass resizing for any image.
Does Imsanity compress or optimize my images?
While Imsanity does compress JPG images in the process of resizing them, it uses the standard WordPress compression. Thus, the resulting images are not efficiently encoded and can be optimized further (without quality loss) by the EWWW Image Optimizer and many other image optimization plugins.
Will Imsanity resize images from plugin X, Y, or Z?
If the images can be found in the Media Library of your site, then it is likely Imsanity will resize them. Imsanity uses the wp_handle_upload hook to process new uploads and can resize any existing images in the Media Library using the Bulk Resizer. If the images are not in the Media Library, you can use the EWWW Image Optimizer to resize them.
Why would I need this plugin?
Photos taken on any modern camera and most cellphones are too large to display full-size in a browser.
This wastes space on your web server, and wastes bandwidth for your visitors to view these files.
Imsanity allows you to set a sanity limit so that all uploaded images will be constrained to a reasonable size which is still more than large enough for the needs of a typical website. Imsanity hooks into WordPress immediately after the image upload, but before WordPress processing occurs. So WordPress behaves exactly the same in all ways, except it will be as if the contributor had scaled their image to a reasonable size before uploading.
The size limit that imsanity uses is configurable. The default value is large enough to fill the average vistor's entire screen without scaling so it is still more than large enough for typical usage.
Why would I NOT want to use this plugin?
You might not want to use Imsanity if you use WordPress as a stock art download site, to provide hi-resolution images for print or use WordPress as a hi-resolution photo storage archive.
Doesn't WordPress already automatically scale images?
When an image is uploaded WordPress keeps the original and, depending on the size of the original, will create up to 4 smaller sized copies of the file (Large, Medium-Large, Medium, Thumbnail) which are intended for embedding on your pages. Unless you have special photographic needs, the original usually sits there unused, but taking up disk quota.
Why did you spell Insanity wrong?
Imsanity is short for "Image Sanity Limit". A sanity limit is a term for limiting something down to a size or value that is reasonable.